Hurricane Prepararation for Computer Equipment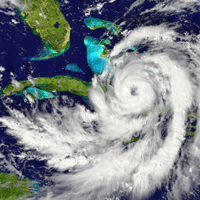 To secure computer equipment in all locations, please follow the procedures listed below:



All workstations should be shut down in an orderly manner, unplugged from the power supply and covered with plastic. Do not disconnect from the network, if possible.


Servers that are not attached to an Uninterruptible Power Supply (UPS) should be treated the same as a workstation.


Servers that are attached to a managed UPS should be left on. A managed UPS is one that has a serial cable running from the UPS to the server. Servers that are attached to a managed UPS will shut down in an orderly manner on their own if the power goes off. They will also start up on their own when the power is restored.


Servers that are attached to a UPS, but are not managed, should be shutdown in an orderly manner and then turned off. They do not need to be unplugged if they are plugged into a UPS as the UPS provides surge protections. The UPS can be unplugged, if flooding is a possibility.


Leave the power on all switches, hubs, routers and domain controllers, if possible. Do not cover as this will damage the equipment due to overheating.


ITS Equipment (Active Directory and Dadeschools.net servers) - Leave the power turned on. ITS will control the activity of these devices.


Telephone sets - All telephone sets should be covered.


PBX Switches - Do not power off and do not cover the PBX equipment.


Back up Critical servers and store the backup in a secure location or off site.


Back up all data and store in a secure locations.


If you have any questions regarding the information or these processes, please call Support Services at 305-995-3705(0).


Copyright © 2017 - All Rights Reserved -M-DCPS Instructional Technology